Lodging Information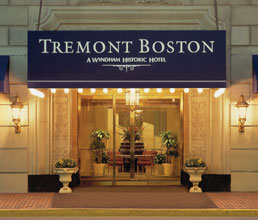 The conference venue is the Historic Tremont Boston Hotel, one block from the ARLINGTON MBTA stop on the Green Line, right in the heart of the Theatre District, and an easy walk from most of the great attractions of Boston. Hotel Video
NEW! The hotel changed ownership from Wyndham to Crestline on August 18th; If you signed up for Wyndham-by-Request and booked your room using your account, the "Free in-room Internet" deal will be grandfathered in. We do plan to provide WIFI access while the conference is in session.
Single/Double rates for our conference were negotiated to $129/night for a limited block of rooms but only until August 12th. Please call the hotel directly, mentioning "ALIFE9" to try to get this special rate.
Tremont Boston
275 Tremont Street
Boston MA 02116
(617) 426-1400

At the hotel fills up, you may be able to find Alife9 rooms at the Radissson (617-482-1800) for $199 and at the Feng Shui designed Doubletree hotel (617-956-7900) for $189.
General Reservation line 1-888-223-7220
www.crestlinehotels.com